The Lisa J. Raines Fellowship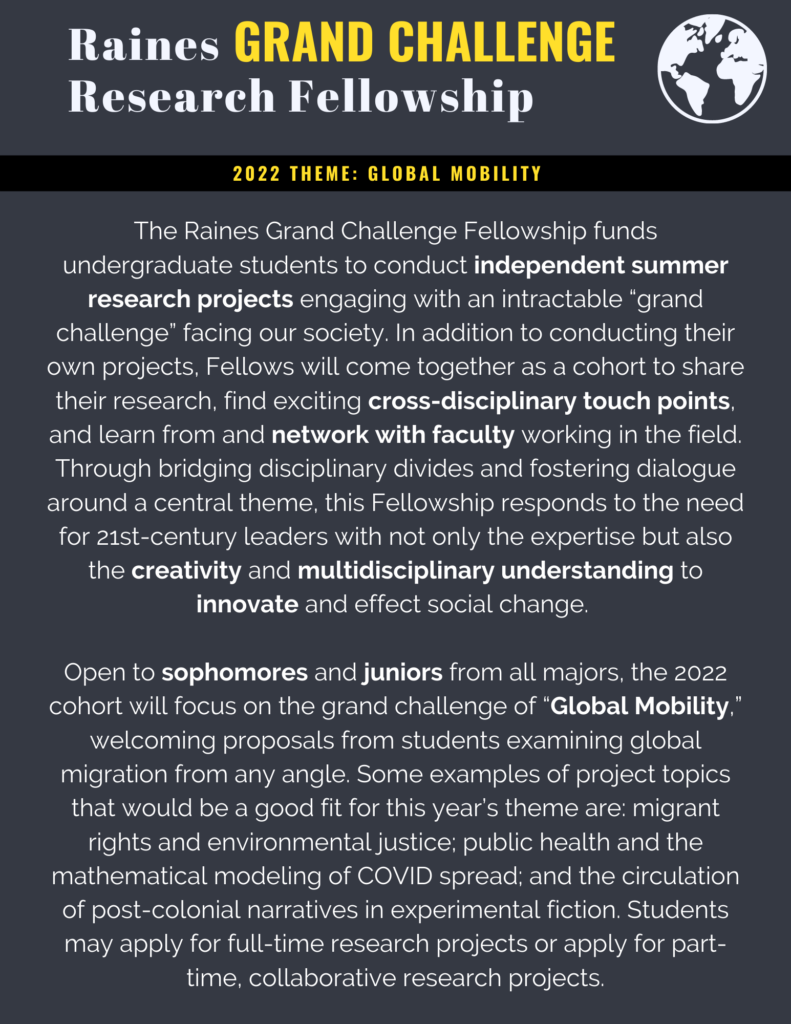 The Lisa J. Raines Grand Challenge Fellowship (Raines) funds undergraduate students to conduct independent summer research projects engaging with an intractable "grand challenge" facing our society. In addition to conducting their own projects, Fellows will come together as a cohort to share their research, find exciting cross-disciplinary touch points, and learn from and network with faculty working in the field. Through bridging disciplinary divides and fostering dialogue around a central theme, this Fellowship responds to the need for 21st-century leaders with not only the expertise but also the creativity and multidisciplinary understanding to innovate and effect social change.
The Fellowship is open to sophomores and juniors from all majors. The 2022 cohort will focus on the grand challenge of "Global Mobility," welcoming proposals from students examining global migration from any angle. Some examples of project topics that would be a good fit for this year's theme are: migrant rights and environmental justice; public health and the mathematical modeling of COVID spread; and the circulation of post-colonial narratives in experimental fiction.
Students may apply for full-time research projects or apply for part-time, collaborative research projects.
The Raines provides a total of $5,000 to successful applicants to design, investigate, and produce an original research project over the course of ten weeks.
The skills gained through securing and completing a Raines are invaluable assets to a student's academic and postgraduate goals. From conceiving of a project idea to presenting original findings, students hone their analytical, writing, and time management skills – all while exploring their chosen field in a specific and personal way. Such focus contributes significantly to a strong undergraduate record, future graduate school admissions and study, and post-graduate fellowships. Students interested in applying for the Raines should contact undergraduateresearch@georgetown.edu.
Application
The application cycle for summer 2022 research funding has closed. Information about the summer 2023 application cycle will be posted when it becomes available.
To apply, please email your completed application to undergradresearch@georgetown.edu. 
A Raines application consists of the following:
Completed application form
A project proposal describing the proposed project of study, the significance of the project in relation to the field at large, and the methodology
Grand Challenge Thematic Essay, providing insight into personal motivation and understanding of theme

A ten-week timeline

For students traveling abroad: a list of all procedures and documentation is required to conduct research in foreign country (including customs regulations, travel documentation, etc.). Please note that the Raines may not be used to fund study in a country currently on the Department of State's Travel Warning list.

International Travel: Undergraduate students proposing international travel as part of their research application need to complete the steps outlines on this webpage: https://globalservices.georgetown.edu/travel-appeals/
Students should review the webpage closely and also visit the section, "Undergraduate Student International Travel," which is a drop-down menu. There, students will find the "International Travel Authorization Application for Undergraduates."

Résumé (one page)
Transcript (may be unofficial)
A letter of support (to be emailed separately to undergradresearch@georgetown.edu)
Lisa Joy Raines was a 1982 graduate of Georgetown Law School. A resident of Great Falls, Virginia, Lisa was Senior Vice President of Government Relations for the Genzyme Corporation in Washington DC, a biotechnology company. As Senior VP, Lisa worked hard to push forward patent protectors for the emerging field of cellular and gene treatments for rare diseases, and the fast tracking of promising treatments for cancer and AIDS. She worked tirelessly to ensure that the best medicines reached patients. Tragically, Lisa perished on September 11, 2001 aboard American Airlines 77, the flight that crashed into the Pentagon.