The Lisa J. Raines Fellowship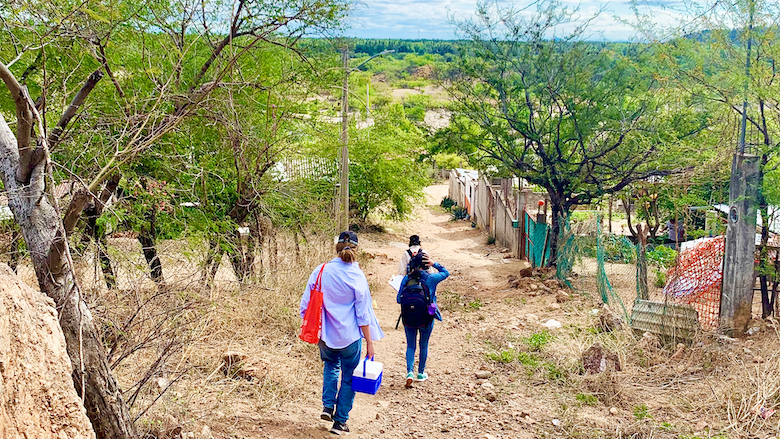 The Lisa J. Raines Fellowship funds undergraduate students to conduct independent summer research projects in any discipline.
Fellows meet weekly with program colleagues and advisors for a one-hour seminar to – for example – meet with faculty experts, discuss research generally, and give updates on their own work. Each year, the Raines Fellowship organizes around a theme.
Overview
Current sophomore and junior students in any major can apply for up to $5,000. Projects may be collaborative with two student researchers; if that is the case, each student on a collaborative project will receive up to $2,500.
CRF-sponsored summer research fellowships are an equal opportunity to all current Georgetown University undergraduates regardless of immigration status.
Information Session
Visit a recorded information session about applying to the summer 2023 research fellowship programs.
Contact a Peer Mentor
Students interested in applying for a summer 2023 research award are invited to reach out to a peer mentor, who can meet with them, provide advice, and review materials for feedback. Peer mentors are senior undergraduate students who previously received summer awards.
Theme: Researching with Impact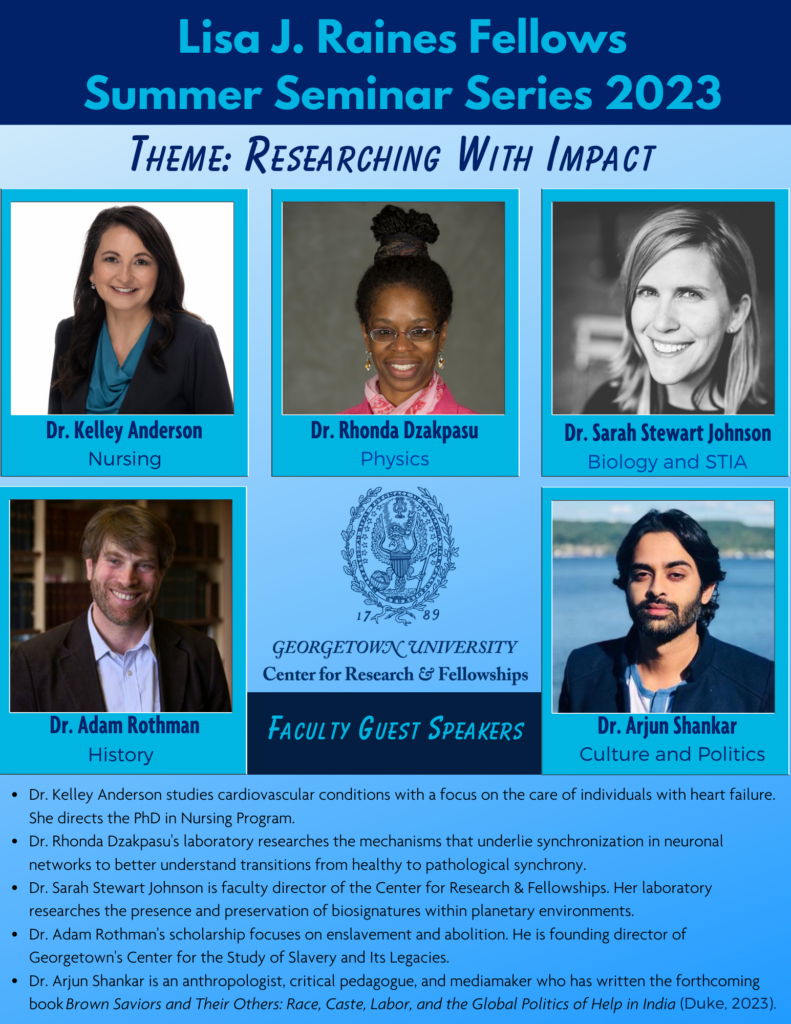 The Raines Fellowship theme for summer 2023 is: Researching with Impact. Sophomore and juniors across all of Georgetown's academic disciplines are invited to submit research project applications. Raines applicants should think creatively and broadly about how their issue-specific research project will:
Advance their individual skills of systematic scholarly inquiry
Seek new knowledge and improved understanding about their specific issue
Potentially contribute to a foundation for incremental change for communities globally.
Change can be newly generated knowledge that influences how a field-specific academic community understands a well-known or a less well-known subject. Or it can be how new knowledge impacts policy analysis and decisions that impact the community. These are just examples!
Past Raines Fellows have focused on topics including:
"Malicious Use Risk of CRISPR Gene Editing Technology: The CRISPR Superbug"
"What She Lost to the Waters: Historicizing the Memories of Vietnamese Women Refugees"
"Water in the West: Analyzing the Central Arizona Project's (CAP) Impact on Arizona's Pinal County"
"The Invisible Enemy Has a Yellow Face: Examining the Relationship Between War Metaphors and Anti-Asian Violence During the COVID-19 Pandemic"
"Probing the Neuronal Network Effects of a High Risk Gene for Alzheimer's Disease"
"'Forced' Migration and Mobility: An Ethnographic Case Study of the Indian Migration Crisis in the Wake of the COVID-19 Pandemic"
"The Pakinggan Archive: Vernacular Images and Public Art Tracing Filipinx American Immigration to Southern California."
As students expand their academic and professional interests outside of the classroom, projects dedicated to "Researching with Impact" can have small- or large-scale effects on their disciplines and their community. The Center for Research & Fellowships challenges students to think critically about the ways their research activities can have larger implications beyond the scope of the Raines summer experience.
Timeline for Summer 2023
Applications Open: Thursday, December 1, 2022
All Materials Due: Wednesday, February 1, 2023 at 12 PM (noon) ET
Results Announced: Mid-March 2023
Award Period: Mid-May to Mid-August (subject to change)
Applying for Raines
The deadline for 2023 has now passed. Applications for the Raines (individual or collaborative) must be submitted in a single .doc or .pdf via a Google form application. A Raines application consists of the following:
Completed Google form application (Note: The Google form application is where applicants will upload their combined .pdf document including, in this order, the cover sheet, proposal, statement, timeline, resume, and transcript.)
A project proposal (max. 600 words) – proposed project of study, the significance of the project in relation to the field, project methodology, relevant credentials. Use this proposal template.
A thematic essay (max. 600 words) – providing insight into personal motivation and understanding of theme. Use this essay template.
A ten-week timeline. Use this timeline template.
Resume (no more than two pages)
Transcript (may be unofficial)
A letter of support from the faculty sponsors; recommenders should directly send letters to undergradresearch@georgetown.edu. Subject line should read: Raines Recommendation Student Last Name, Student First Name
More information for faculty recommender.
History
Lisa Joy Raines was a 1982 graduate of Georgetown Law. Lisa died on September 11, 2001 aboard American Airlines 77, the flight that crashed into the Pentagon. This fellowship honors her memory and her leadership, in the biotechnology field, to advance treatments for cancer, HIV/AIDs, and rare diseases.
(Updated September 2022)