The Laidlaw Undergraduate Leadership and Research Scholarship Programme
The Georgetown University Center for Research and Fellowships is excited to announce its partnership with the Laidlaw Foundation!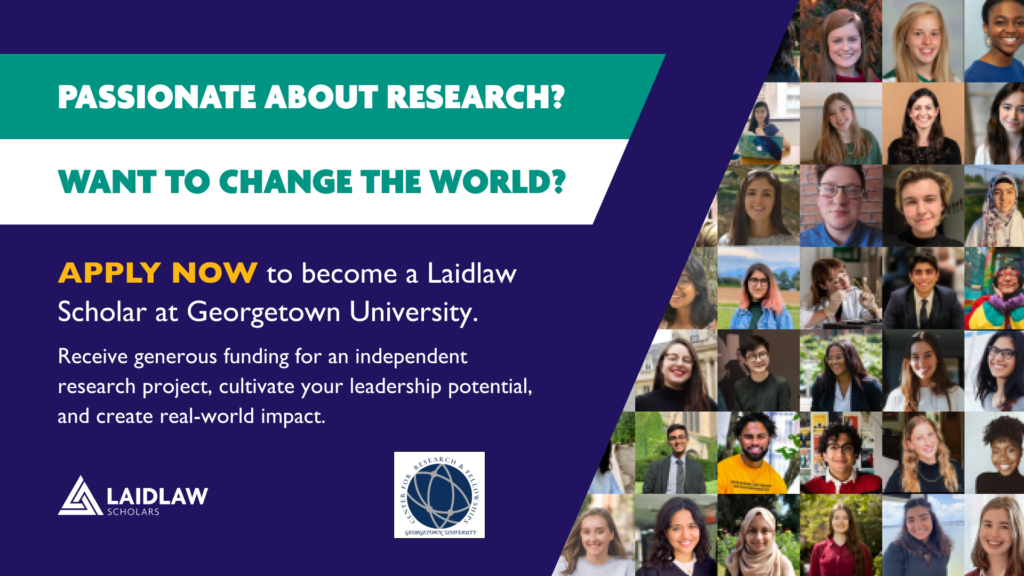 Who are Laidlaw Scholars?
The Laidlaw foundation partners with twelve world-leading universities, including Columbia University and University College London, to select 25 outstanding undergraduates at each institution annually for the Laidlaw Undergraduate Leadership and Research Scholarship.
To date, over a thousand scholars have completed the program.
What does an ideal candidate look like?
Talented and motivated students who are eager to conduct meaningful research in their academic area of interest. First year and sophomore students from all majors are encouraged to apply. The Laidlaw leadership development program aims to provide training for the selected scholars so they can become leaders in their respective fields.
What does the scholarship include?
An independent 6-week research project in the first summer after receiving the scholarship.
Leadership development training between the first and second summer.
A 6-week Leadership-in-Action experience in the second summer after receiving the scholarship.
Global networking through the online community network, Laidlaw Scholars Network.
What is the Leadership-in-Action component of the Laidlaw Scholars program?
Scholars design their own project in which they are able to practice their leadership skills in the field that they have chosen to pursue. The project must have a defined objective and towards the improvement of a disadvantaged group or community. Students may develop their own project or apply to work with a partner program through the Laidlaw Foundation.
Upcoming Events and Opportunities
[To receive Zoom links and reminders for these events, please email fellowships@georgetown.edu and ask to be requested to the Laidlaw listserv. The information will be distributed there as it becomes available, as will recordings of the workshops once completed.]
Workshop schedule will be announced during the 2023 Laidlaw Scholars Cycle. Stay tuned!
Past Workshop Recordings
Proposal Writing Session Recordings
How to Apply
Deadline: Early Spring Semester 2023
The deadline for the 2022 application cycle has now passed. Please email fellowships@georgetown.edu and request to be added to the Laidlaw 2023 listserv if you are interested in applying next year!
Application Components:
Application Form: Link here
Research Project Statement (500-1,000 words)
Completed Faculty Research Mentor Commitment or Plan: Link here.

(To provide your faculty mentor with more information on the Laidlaw program and their role in your application, please direct them to this document.)

Leadership Essay (500 – 750 words)
Resume (1 page max)
Unofficial Transcript
One Letter of Recommendation (academic, leadership, or character)
For more information about the application components, see the overview here. The above materials, less the letter of recommendation which should be sent directly by your recommender to fellowships@georgetown.edu, must be submitted to the CRF in a single pdf by the deadline.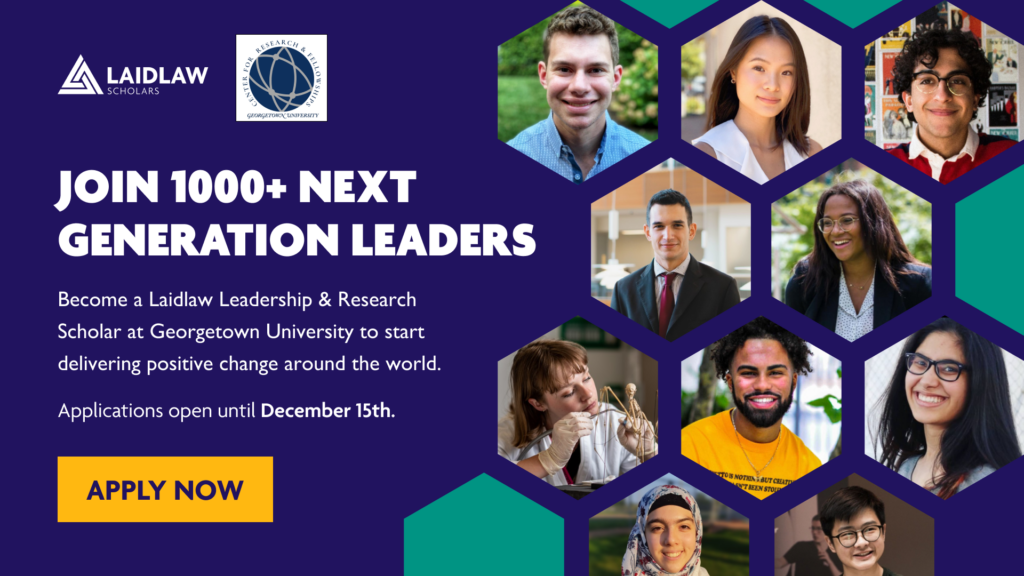 To stay up to date on all information concerning the Laidlaw program, contact fellowships@georgetown.edu to be added to the listserv.