The Laidlaw Undergraduate Leadership and Research Scholarship Programme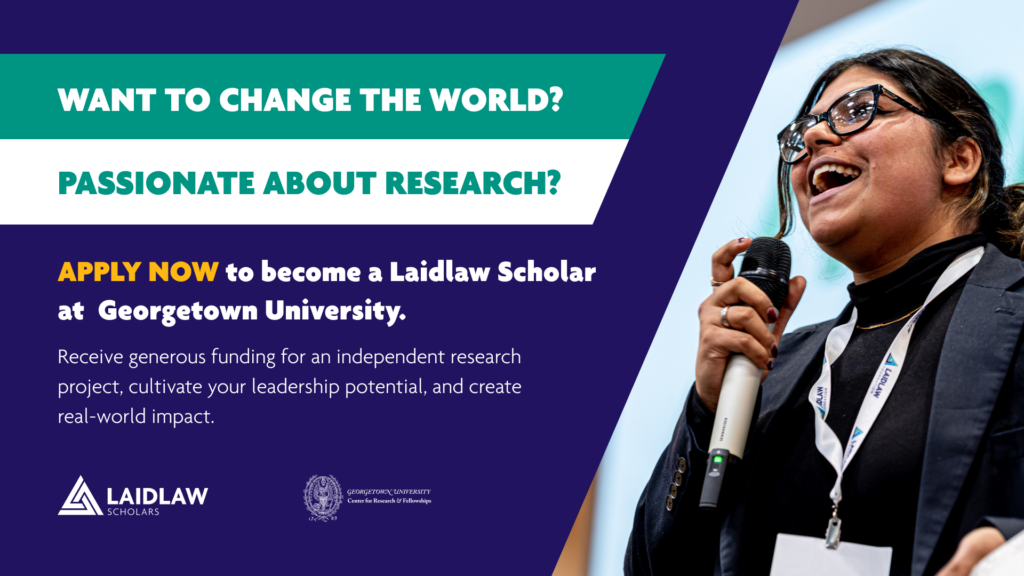 Overview
Partnership with the Laidlaw Foundation
The Laidlaw Foundation partners with world-leading universities, including Columbia University and University College London, to select up to 25 outstanding undergraduates at each institution annually for the Laidlaw Undergraduate Leadership and Research Scholarship.
To date, over a thousand scholars have completed the program.
Eligibility and Rules
Applicants must be currently enrolled at Georgetown University as either first year or sophomore students from any major.
Potential Laidlaw Scholars are eager to conduct meaningful research in their academic area of interest while expanding their leadership skills. Applicants with no prior research experience are particularly encouraged to apply.
The Laidlaw Scholars Program is an equal opportunity to all current Georgetown University undergraduates regardless of immigration status.
Students must have a Georgetown Supplier ID established at the time of application. (If possible, it is best to select the ACH/direct deposit option.) If you previously applied for a Supplier ID, check that it is still active on the website of the Office of the Chief Financial Officer. If the Supplier ID is inactive, you will need to apply for a new one.
Summer research grant awards administered by the Center for Research & Fellowships, including the Laidlaw Scholars summer research, cannot be used for academic course credit.
Join our E-Mail List!
If you are eligible to apply, please join our e-mail list to receive information about advising and information sessions.
Program Details
Summer 1: Scholars undertake an independent, faculty mentored 6-week research project after receiving the scholarship.
Academic Year following Summer 1:

Scholars participate in leadership development workshops and seminars during the academic year between the first and second summer.
Scholars participate in an ethic masterclass designed and facilitated through the Oxford Character Project.

Summer 2: Scholars participate in a 6-week Leadership-in-Action experience in the second summer after receiving the scholarship. The project must have a defined objective and benefitting a group or community in need. Students may develop their own project or apply to work with a partner program through the Laidlaw Foundation.
As part of the Laidlaw Scholars Program, scholars receive:
Stipends amounting up to $3,900 per summer
Housing during the Research Summer period
Access to global networking through the online community network, Laidlaw Scholars Network

Application Timeline and Information
Faculty Proposed Projects
For the 2024-2025 Laidlaw Scholars Cohort application, the Center for Research & Fellowships is piloting an option for students to apply to research projects proposed by Georgetown University faculty members. Students interested in applying to faculty member projects should complete the Faculty Member Project Application Research Statement as part of their application materials. Project information can be found in the drop down menus below.
Social Science Projects
Public Health and Science Projects
Upcoming Workshops
To stay up to date on all information concerning the Laidlaw program, contact laidlaw@georgetown.edu to be added to the listserv.