The Laidlaw Undergraduate Leadership and Research Scholarship Programme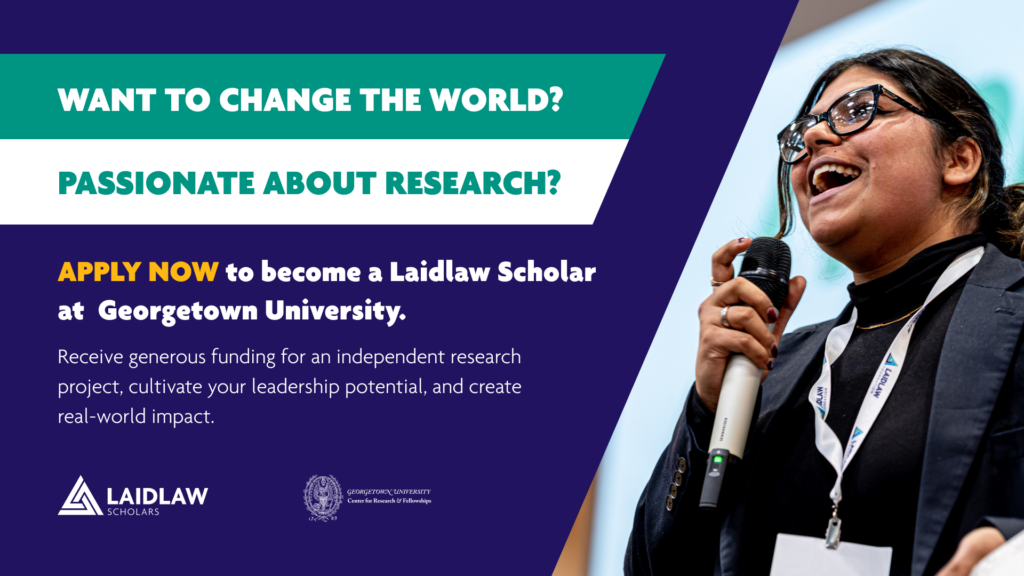 Overview
Partnership with the Laidlaw Foundation
The Laidlaw Foundation partners with world-leading universities, including Columbia University and University College London, to select up to 25 outstanding undergraduates at each institution annually for the Laidlaw Undergraduate Leadership and Research Scholarship.
To date, over a thousand scholars have completed the program.
Eligibility and Rules
Applicants must be currently enrolled at Georgetown University as either first year or sophomore students from any major.
Potential Laidlaw Scholars are eager to conduct meaningful research in their academic area of interest while expanding their leadership skills. Applicants with no prior research experience are particularly encouraged to apply.
The Laidlaw Scholars Program is an equal opportunity to all current Georgetown University undergraduates regardless of immigration status.
Students must have a Georgetown Supplier ID established at the time of application. (If possible, it is best to select the ACH/direct deposit option.) If you previously applied for a Supplier ID, check that it is still active on the website of the Office of the Chief Financial Officer. If the Supplier ID is inactive, you will need to apply for a new one.
Summer research grant awards administered by the Center for Research & Fellowships, including the Laidlaw Scholars summer research, cannot be used for academic course credit.
Program Details and Timeline
Summer 1: Scholars undertake an independent, faculty mentored 6-week research project after receiving the scholarship.
Academic Year following Summer 1: Scholars participate in leadership development workshops and seminars during the academic year between the first and second summer.
Summer 2: Scholars participate in a 6-week Leadership-in-Action experience in the second summer after receiving the scholarship. The project must have a defined objective and towards the improvement of a disadvantaged group or community. Students may develop their own project or apply to work with a partner program through the Laidlaw Foundation.
As part of the Laidlaw Scholars Program, scholars receive:
Stipends amounting up to $3,900 per summer
Housing during Summer 1
Access to global networking through the online community network, Laidlaw Scholars Network
Timeline for 2023 – 2024 Laidlaw Scholars Cohort:
Application Opens: Thursday, December 1, 2022
All Materials Due: Wednesday, February 1, 2023 at 12:00pm (noon) ET
Cohort Selection Announced: March 2023
Laidlaw Scholars Leadership Retreat: April 2023
Summer 1- Research Summer: June 2023 – July 2023
Leadership Development Program: September 2023 – April 2024
Summer 2- Leadership-in-Action Project: Mid-May to Mid-August 2024
Information Session
Visit a recorded information session about the Center for Research & Fellowships 2023 research programs.
Applying for the Laidlaw Scholars Program
Applications for the Laidlaw Scholars Program must be submitted in a single .pdf via a Google form application.
A Laidlaw Scholars application consists of the following:
Completed Google form application (Note: The Google form application is where applicants will upload their combined .pdf document including, in this order, the cover sheet, research statement, leadership essay, resume, and transcript.)
Short Answer Question – Identify three goals for your development as part of the Laidlaw Program. Each response must be maximum 50 words and submitted via the Google form.
A research statement (max. 600 words) – The statement should include a proposed project of study, the significance of the project in relation to the field, project methodology, relevant credentials. Applicants may use this proposal template.
A leadership essay (500 – 750 words) – Applicants may use this template to respond to one of the three following prompts: 

Option 1: What connections do you see between research and leadership? How have those connections become apparent to you so far in your academic, professional, or personal experiences?

Option 2: Who is a leader you look up to (not related to you) with a trait you would wish to emulate? What is that trait and why do you believe it is important to use as a leader?
Option 3: How would you define "ethical leadership"? Why is it important to develop leadership skills rigorously informed by ethical principles?
Resume – 1 page, 12 pt. font
Transcript (may be unofficial)
Academic, Leadership or Character Recommendation Letter – The letter of recommendation should come from one best poised to recommend you for an intensive, cohort-based, leadership and research development program. Select an individual who knows you well and can attest to the qualities that make you a valuable member of a student-scholar community.

Only one recommendation is required though additional recommendations may be submitted on behalf of an applicant. All recommendations must send their letter to laidlaw@georgetown.edu by the application deadline. 

Faculty Mentor – A faculty mentor is not required at time of application. However, applicants must identify a faculty mentor by the start of your summer research period. If you have concerns or questions about identifying a faculty mentor, please contact the CRF at laidlaw@georgetown.edu.

A faculty mentor provides direct mentorship during the summer research project. They recommend the project proposal and review the final outcome. Applicants are highly encouraged to provide a draft of their proposal to their faculty sponsor before the deadline with ample time for revisions. A letter of support can be submitted separately by the faculty member by the deadline.
Past Events and Opportunities
In addition to the workshop recordings offered below, the CRF highly encourages individuals interested in the Laidlaw Scholars program to review our Canvas course on developing a research project.
Past Application Cycle Workshop Recordings 
To stay up to date on all information concerning the Laidlaw program, contact laidlaw@georgetown.edu to be added to the listserv.