Truman Scholarships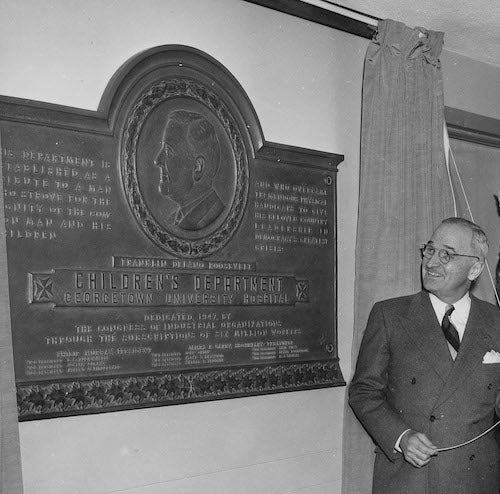 The Truman Foundation is the nation's official living memorial to our thirty-third president and The Presidential Memorial to Public Service. President Truman did not want a bricks and mortar monument. Instead, he encouraged a living memorial that would give life to the values of service that had animated his career. In that spirit, the Truman Foundation is a place that nurtures and supports future generations who answer the call to public service leadership.
The hallmark of the Foundation's work is the Truman Scholarship, the premier graduate fellowship in the United States, providing up to $30,000 to apply toward graduate study in the U.S. or abroad in a wide variety of fields.
Eligibility
US Citizen or US national
GPA in the top 25% of your class. However, it is possible that the Truman will waive that requirement in light of genuinely exceptional public service
Full-time student pursuing a bachelor's degree with junior-level academic standing
Institutional endorsement
Application Process
Interested students should request to join Georgetown's Truman listserv by contacting fellowships@georgetown.edu and attend an information session early in the fall semester.
In October of your junior year, you will submit your application for nomination to the Truman Scholars Selection Committee. The Committee will invite a number of students to interview, and then nominate four students for University endorsement. Endorsed students will work closely with the Center for Research and Fellowships on their final applications.
Application for Nomination Components:
Resume (No more than 2 pages, 1 inch margins, size 12 font)
Three letters of recommendation: one academic, one leadership, and one public service.
Students must complete the Truman Application digitally. To request access, please contact the Center for Research and Fellowships.
Deadlines
Internal Scholarship Deadline: November 15, 2023. Applications should be sent as ONE pdf document via this Google form. The internal Truman Selection Committee will then choose applicants to be interviewed. Up to four non-transfer applicants AND up to three transfer applicants will then be selected to be Georgetown's nominees to apply for the Truman Scholarship.
External Scholarship Deadline: February 6, 2024
Students interested in the Truman should contact Lauren Tuckley / Colleen Dougherty at fellowships@georgetown.edu.
Truman Scholars in the News