Faculty Fellowship Spotlight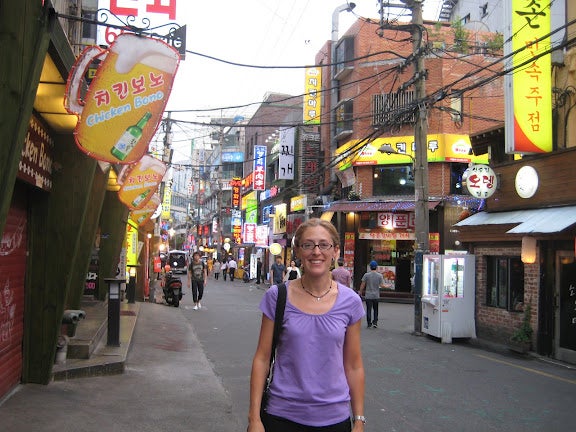 Name: Sandra Layton
Department: Office of International Programs
Title: Associate Director, International Student & Scholar Services
Education
Undergraduate: Georgetown University, SLL, B.S. French
Graduate: American University, M.A. Sociology: International Training & Education
Fellowship Won: Fulbright U.S.-Korea International Education Administrator Award
Country: South Korea
Brief Description of Project: The International Education Administrators (IEA) seminars program helps international education professionals and senior higher education officials from the United States create empowering connections with the societal, cultural and higher education systems of other countries. Grantees have the opportunity to learn about the host country's education system from the inside out as well as establish networks of U.S. and international colleagues. Grantees return with enhanced ability to serve and encourage international students and prospective study-abroad students. This was an intensive two week program in June 2012.
How did you become interested in this field and country? I have met many students and scholars from Korea over the years in my work at OIP. Korean students and scholars make up about 10% of the international student and scholar population at Georgetown. This was a great opportunity for me to learn more about the Korean culture, education system and international education.
What were helpful strategies you employed in pursuing this fellowship? I talked with colleagues in the international education field who had received this grant in the past as well as with others at Georgetown who had received other types of Fulbright grants to hear about their experiences and what worked well for them. I also participated in the webinar put on by the Council for International Exchange of Scholars (CIES) which administers the Fulbright grants.
What were some difficulties you encountered and how did you address them? Until about two weeks prior to my departure, I did not have a clear idea of the schedule or what we would be doing during the two week program. The Fulbright office in Seoul had sent reading materials and other pre-arrival information, and the person who conducted our orientation gave me a very useful handbook which helped me make preparations. In the end, everything went extremely smoothly.
Prior to your fellowship, what were you most looking forward to do? We met the eight Korean International Education Administrator Award recipients during our orientation at the NAFSA: Association of International Education conference in Houston as they were finishing up their program in the United States. After that, I was very much looking forward to visiting them on their university campuses in Korea.
What are your interests outside this fellowship? I work with international students and scholars at Georgetown, and I am very interested in learning about other cultures and languages to better support the international community here.
What is your most rewarding experience as a staff member of Georgetown? Helping international scholars obtain their visas so that they can come to the United States and providing orientation and support to them during their time at Georgetown is extremely rewarding.
Last words? This was an incredible experience. I learned so much in a two week period about Korea, Korean education and culture and different aspects of international education. My sincere thanks go to Ms. Jai-Ok Shim, Executive Director of the Korean-American Educational Commission (KAEC) in Seoul and all the KAEC staff, Ms. Tanya Janes at the Council for International Exchange of Scholars (CIES), and Dr. H.H. Underwood for our orientation.