Fulbright U.S. Student Program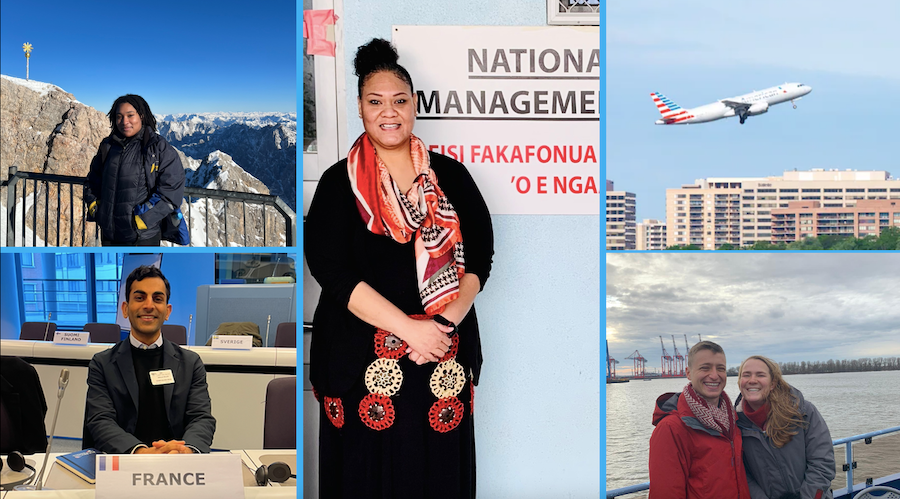 From Fulbright: "The Fulbright U.S. Student Program expands perspectives through academic and professional advancement and cross-cultural dialogue. Fulbright creates connections in a complex and changing world. In partnership with more than 140 countries worldwide, the Fulbright U.S. Student Program offers unparalleled opportunities in all academic disciplines to passionate and accomplished graduating college seniors, graduate students, and young professionals from all backgrounds. Program participants pursue graduate study, conduct research, or teach English abroad."
The Top Fulbright Producer: 2022-2023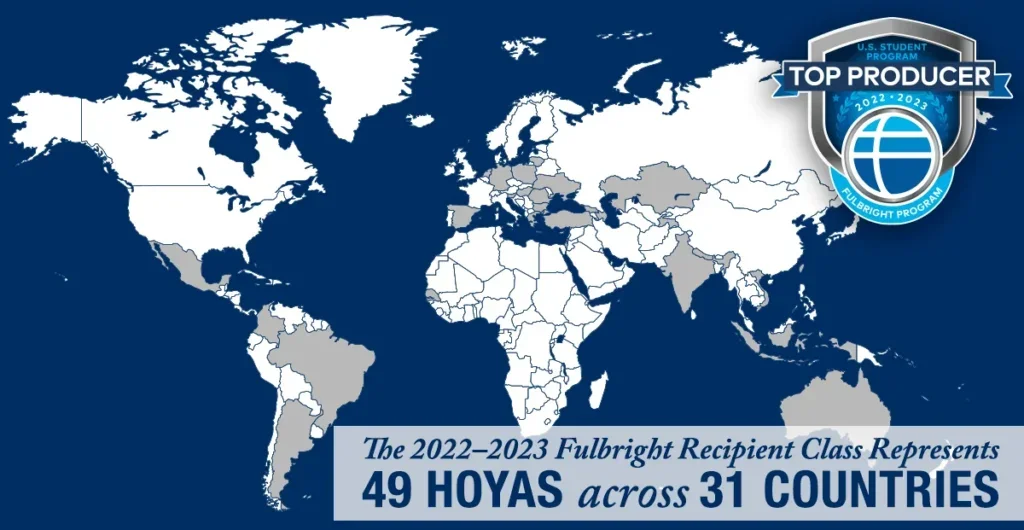 Georgetown students and alumni won the highest number of Fulbright scholarships out of any other college or university in the U.S. for the 2022-2023 academic year, the State Department announced Feb. 10. Learn more about this achievement.
2023-2024 Application Cycle
The 2023-2024 application cycle for the Fulbright U.S. Student Program closed on October 11, 2022. More information about the 2024-2025 timeline will be posted here when it becomes available. The application will open in April 2023.
What to Do Next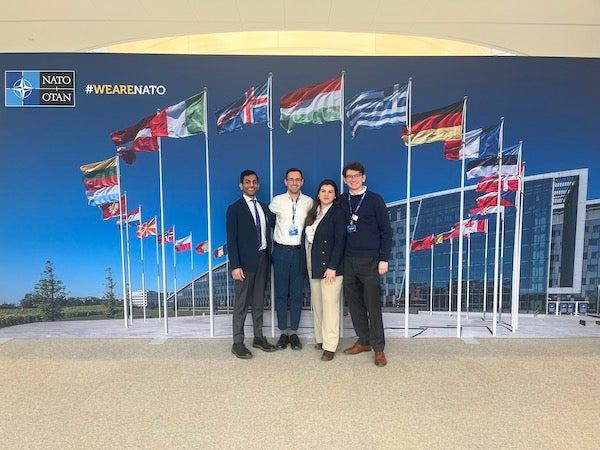 Research the type of Fulbright award you hope to pursue and in which location.
Learn more about eligibility and the application components for Fulbright.
Enroll in the Center for Research & Fellowships Canvas course to learn more about how to put together an application for the English Teaching Assistant (ETA), research, and study awards.
If the award you are thinking about asks for an affiliation letter (e.g., a letter from an organization you will conduct research with during your Fulbright or a letter from a program where you will study during your award), begin engaging with individuals/organizations and requesting letters as soon as possible.
Identify three individuals who can write substantive letters of recommendation for you. Review "Instructions For Study/Research Recommendation Writers" and "Instructions For English Teaching Assistant (ETA) Recommendation Writers" to get a better sense of what writers should address. Share this guidance with individuals who agree to write letters.
Determine if you will need a Foreign Language Evaluation form and, if so, identify an individual to complete it, particularly, according to Fulbright, "a professional language teacher, preferably a university professor."
Visit the Center for Research & Fellowships (3607 O Street NW) to consult our library of previous applications.
Fulbright will need applicants' copies of their official transcript/s. From Fulbright: "Your full name and the institution name must be clearly stated on all transcripts." This can be a scan of the official transcript/s. Please note: The Fulbright portal has had some difficulty with official Georgetown transcripts that are uploaded directly as the Parchment-delivered digital .pdf. To avoid this, it is recommended that applicants scan their official Georgetown transcript (either the original copy of it they received or a print-out of the digital Parchment transcript they received) and upload their scanned .pdf (not the digital .pdf they received directly from Parchment) into the Fulbright portal. Unofficial transcripts, such as a print out from MyAccess, are not acceptable. Applicants can verify their transcripts are acceptable by emailing fbstudentsupport@iie.org.
Advising and Timeline
Advising for Fulbright will begin in spring 2023.
Request to be added to our listserv by filling out this form.
Fulbright Scholars in the News