BIG EAST Undergraduate Research Poster Symposium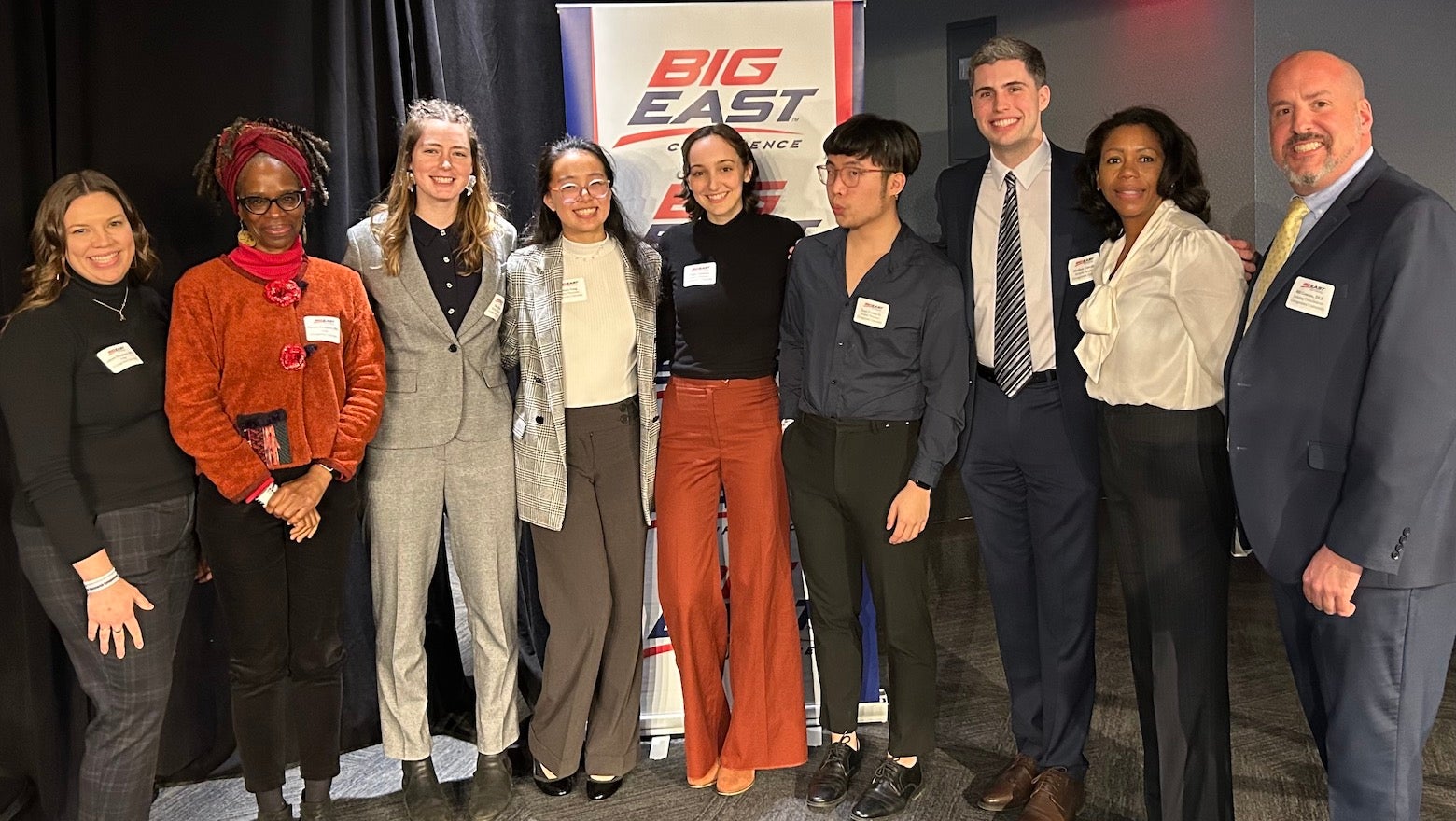 On Saturday, March 16, 2024, Georgetown University will compete at the BIG EAST Undergraduate Research Poster Symposium, taking place at Madison Square Garden in New York City.
Currently enrolled Georgetown undergraduate students across all majors are invited to submit an application to participate as poster presenters. Selected students must also be currently enrolled Georgetown undergraduate students in the spring 2024 semester when the competition occurs.
Up to five undergraduates will be selected to present their research posters. Students will travel together via Amtrak and stay at the conference hotel near Madison Square Garden.
The center will arrange for poster printing, hotel, and train travel, including expenses. Some meals will also be covered during the weekend.
How to Apply
By January 17, 2024 at 12 PM (NOON, not midnight) ET, email the following to undergradresearch@georgetown.edu with the subject line: BIG EAST – YOUR LAST NAME.
A 3-minute (maximum) video – made using PowerPoint, Canva, Zoom, or another similar program – that displays your draft research poster and includes a brief voice-over-style presentation highlighting your research question and your project.

If selected, this will form the basis of your presentation at the symposium.

(You do not need to have your video turned on during the presentation.)
A 250-word (maximum) abstract that summarizes your research project and includes:

Your name, GU school, graduation year
The list of coauthors on the presentation with their affiliations
The name/s of your faculty mentor/s

Resume or CV (no more than 1 page)
A .pdf of the poster you presented in your video.
If Selected
If you are selected for participation, you will:
Need to have your final abstract and project title ready to submit to BIG EAST sometime in early- to mid-February 2024. This information will be printed in the Abstract Book.
Commit to work with the center to practice your presentation and finalize your research poster.
Attend the BIG EAST Conference with the Georgetown team, including travel and hotel, and participate in related activities. The Georgetown team will travel to NYC on Friday, March 15, and return on Sunday, March 17, 2024.
Share information about yourself in a timely manner that is required for arranging travel and hotel accommodation.
Confirm with your professor that the research is ready to be presented in a public forum.
Posters and Judging
Posters will be printed for participants (no cost to participants) by the Center for Research & Fellowships. Final posters will be due to the center by Friday, March 9, 2024, at 12 PM (NOON, not midnight) ET.
Posters should be 3 foot (vertical) x 4 foot (horizontal) in size.
Each poster presentation should be no longer than 10 minutes.
Participants will have a brief Q&A session with each judge.
Total time per poster = roughly 15-20 minutes.
Presentations at the conference will be judged on areas including: visual quality and content, introduction, results and discussion, presentation style, and response to questions.
Awards
Students are recognized for top prizes and honorable mentions.
New Coverage
Updated October 2023 – subject to change