Georgetown University Undergraduate Research Opportunities Program (GUROP)
The Georgetown University Research Opportunities Program (GUROP) is an undergraduate research assistantship program for students in CAS, MSB, SCS, SFS, SOH, and SON, as well as on the Georgetown University in Qatar campus. This is a wonderful opportunity for undergraduates in any academic discipline to build their skills in scholarly inquiry.
Participating students work under the direction of a Georgetown University professor for approximately 60 hours over the course of one semester. It is generally expected that these 60 hours occur during at least 10 weeks of work in a given semester.
Please note: While GUROP does not offer funding or credit, students who successfully complete a semester's worth of work, as evaluated by their faculty mentor/sponsor, will receive a transcript notation. Participation in GUROP does not prevent students from being compensated for their work as a research assistant – either from a faculty member's own sponsored research funds or through departmental work study funds. In these instances, the faculty member or the department facilitates the payment.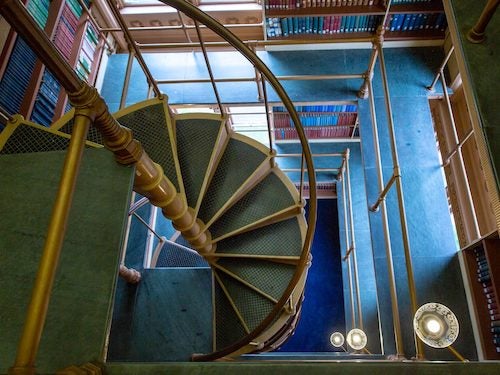 How to Apply
The semester application pre-enrollment form for Fall 2023 GUROP is due Friday, September 22nd at 12:00 pm (noon) ET.
Eligibility
Sophomore, junior, and senior students in good academic standing are eligible. First-year students may participate during their first spring semester with approval. Transfer students are eligible upon matriculation at Georgetown.
No minimum GPA requirement, but a student new to GUROP should have at least a B average, usually not less than 3.25.
Application Procedure
Complete the GUROP pre-enrollment form to indicate your intention to register for mentored research. 
Please complete this form only after you have identified a faculty member AND this person has agreed to serve as your GUROP mentor/sponsor.
After you have completed the form and we have received confirmation from your faculty mentor, you will be notified to enroll in GUROP through MyAccess. Follow these steps to complete the process::
Go to MyAccess
Select Class Listings
Find "41260 – UROP CFRF – 01" through the MyAccess registration portal. 41260 is the universal CRN for all Fall semester GUROP participants.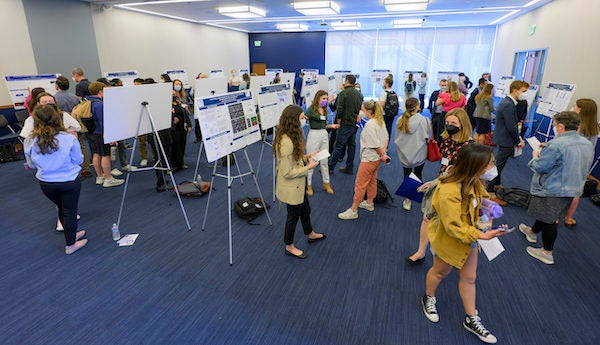 Recognition
All students participating in research for at least 60 hours per semester will have participation in GUROP noted as a no-credit "UROP" course on their transcripts.
At the end of each term, faculty mentors and assistants will be asked to evaluate overall participation and faculty mentors will "grade" the GUROP course: "CP" = complete and the notation will appear; "NC" = not complete and no notation will occur – so there is no penalty for not being able to complete the research expectations.
For Faculty: Research Opportunity Form
The Center for Research & Fellowships is happy to help Georgetown faculty members promote GUROP and other research opportunities to Georgetown undergraduate students. Faculty should complete this brief form describing the opportunity and then email undergradresearch@georgetown.edu to let us know that you have submitted this request. If you have other materials (e.g., a flyer) you would like us to share with the advertisement, please use the same email address.
Funded Research Opportunities
For more information on funded semester or summer research opportunities, please visit this non-exhaustive list of opportunities on the campus:
Frequently Asked Questions
Can I participate in GUROP in multiple semesters?
Yes, a student can be a GUROP research assistant multiple times during their studies at Georgetown. Many students participate for five or six consecutive semesters, and often continue with a project into summer.
How many students per semester are in GUROP?
As many assistantships will be awarded as there are acceptable projects and timely enrollment forms are submitted.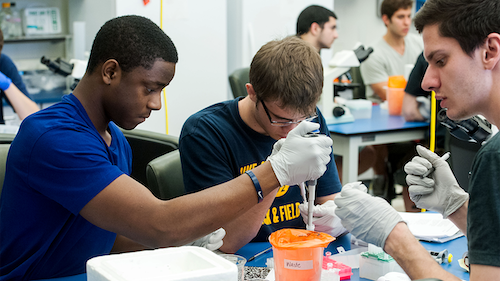 What happens if a student or faculty member misses a deadline?
If deadlines are missed and research time expectations cannot be reasonably met, please apply for the next semester.
Are there any exceptions to missed deadlines?
Not usually, but it's always worth asking. We want students to take advantage of this valuable opportunity.
What is the GUROP commitment?
During the term of the assistantship, the student will spend at least 60 hours over at least 10 weeks working with the faculty mentor on the research. How the faculty member and student arrange their schedules for research is flexible. However, GUROP recommends that there be a relatively evenly distributed amount of hours per week to assist students' other time commitments.
Can I do a GUROP project and receive credit for a registered course using the same research?
Generally no. Work done during a specific GUROP semester-based experience and work done for a specific credit-bearing course or experience should be kept separate. That said, we understand that the research process occurs along a continuum of discovery.
So, for instance, a mentored, non-credit research project a student completes in one semester through GUROP might provide the skills foundation for a more advanced level of independent inquiry in a related area during a later semester. Since GUROP is intended to help students build their research skill set alongside expert faculty on campus, this type of scholarly formation over the course of the undergraduate years is encouraged.
(Updated February 2023)